Reynolds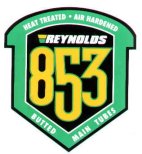 Reynolds 853 – Butted Main Tubes
The ultimate performance tube set ?. Maybe, the Reynolds 853 tube set has been our No 1 for the performance rider ever since it's launch in 1995. Reynolds 853 offers uncompromising performance combined with superb ride quality and excellent strength to weight ratio. The strength to weight ratio equals that of Titanium frames.
After the frame is constructed, 853 actually increases in strength as the frame cools (air hardening).
The unique air hardening properties of 853 provides additional stiffness through reduced micro yielding at the joints, allowing stiffer frames with higher fatigue strength.
Reynolds 853 – Heat Treated
UTS – 81 – 91 Tsi
180 – 210 Ksi
1250-1450 MPa
£2995.00 Includes frame, fork*, headset** & VAT

Reynolds 725 – Chrome-Moly
Reynolds 725 is our most popular tube set, it offers an excellent combination of comfort and performance. It truly is a versatile tube set, we have built frames for short course Time Trials with aero tubes to long distance Audax frames for "Paris Brest Paris".
Reynolds 725 is a Heat Treated thin gauge, tight tolerance seamless Chrome Molybdenum steel.
This tube set is suitable for a wide range of riders.
Technical Data: UTS 70 – 83 Tsi
£2795.00 Includes frame, fork*, headset** & VAT

Reynolds 525 – Chrome-Moly
Introduced in 1998 Reynolds 525 took over from the legendary 531 mark.
Suitable for all frame designs. Ideal for heavy duty touring frames, commuting, ATB & Audax.
Reynolds 525 – Cold Drawn
UTS – 48 – 58 Tsi
100 – 130 Ksi
700 – 900 MPa
£2695.00 Includes frame, fork*, headset** & VAT

* Options are available for the fork, prices includes steel fork or a selected range of carbon forks. Other forks are available, please inquire for additional cost.
** A-headset (threadless) available in 1" or 1 1/8 ". Threaded headsets are also available for new frames.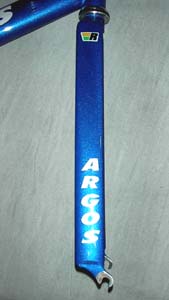 FORK BLADES
Reynolds offers two options in steel fork blades – either 531 or 853.
We aim to recommend the best material to suit.
Argos Aero Fork Blades
These forks have been developed by Argos and are the only true aerodynamic steel fork on the market.
£295.00 Inc. VAT