Renovation process
This is the renovation processes for a standard frame and fork respray
Book in your frame
Firstly, we discuss and note down all the details of the job. Customer contact details, repairs and any brazing work, colours, transfers, lug lining, chrome plating etc. This goes on our booking in forms which can be found in our downloads section. Attached to this will be any photos and sketches needed to achieve the final look the customer wants.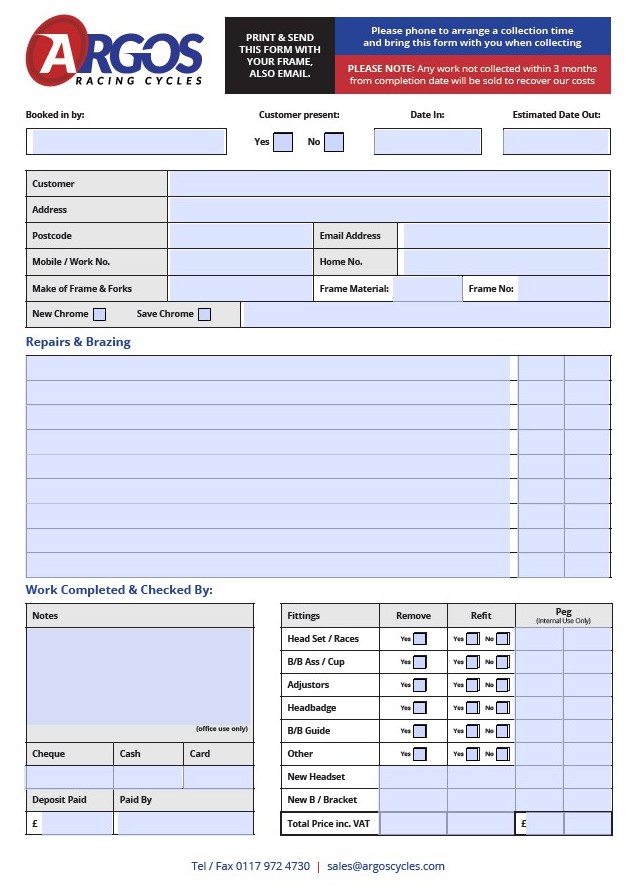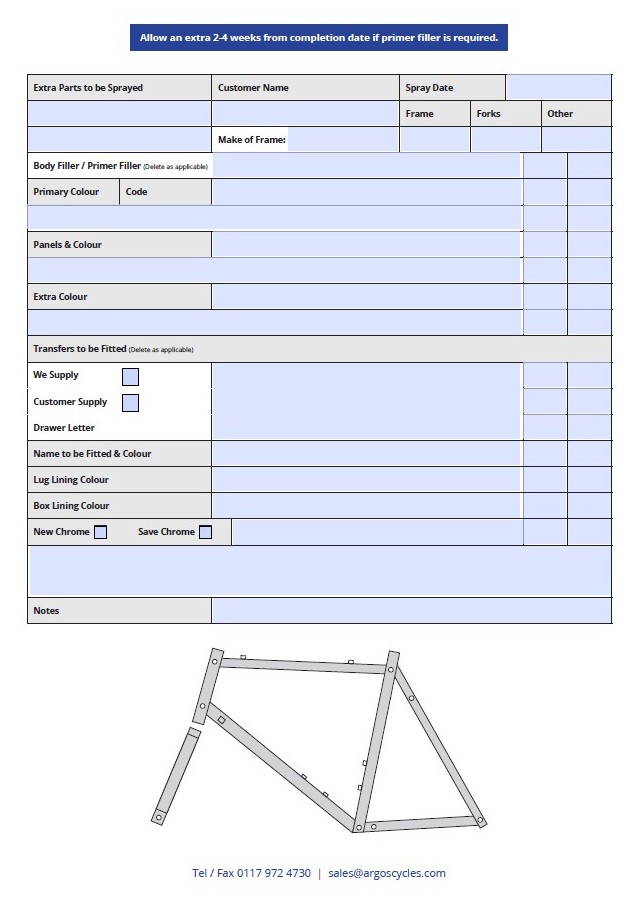 Into the workshop
The next step is where the frame will have any parts removed i.e headsets, bottom brackets, seat posts etc. Then the frame is cleaned and degreased, followed by a chemical strip or light shot blast to remove all paint. This then puts the frame in its raw state ready for the next stages.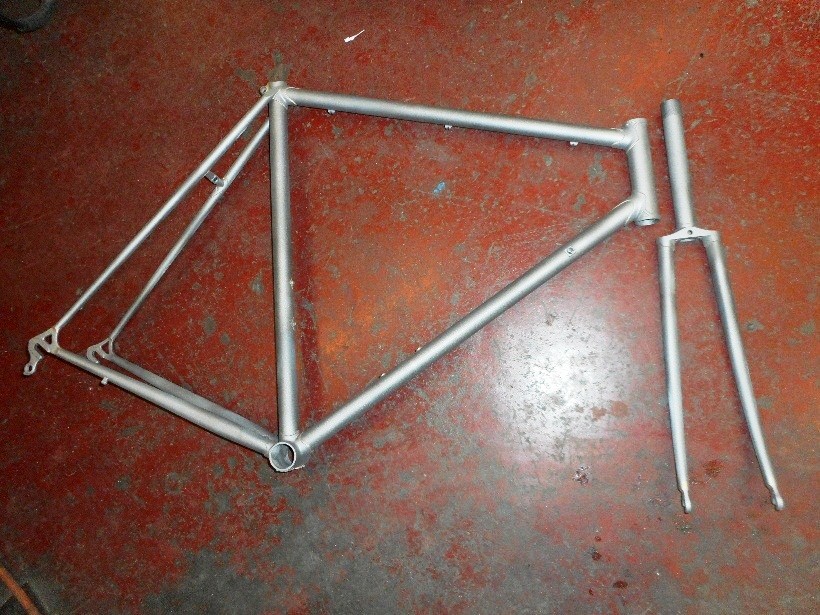 The frame is then inspected for any rust pitting or damage that was hidden by the paint. All repair and brazing work is now carried out. This could be anything from bottle bosses fitted, fitting a new tube, filling a dent or tracking.
Paint shop
The frame then moves to our paint shop. Firstly any masking is done on chrome areas and bearing surfaces. Then another inspection is done, this time deciding if a heavy build primer filler is needed to remove any imperfections/rust pitting in the tubes. If so, it is applied and then rubbed back to create a smooth surface to start the paint process.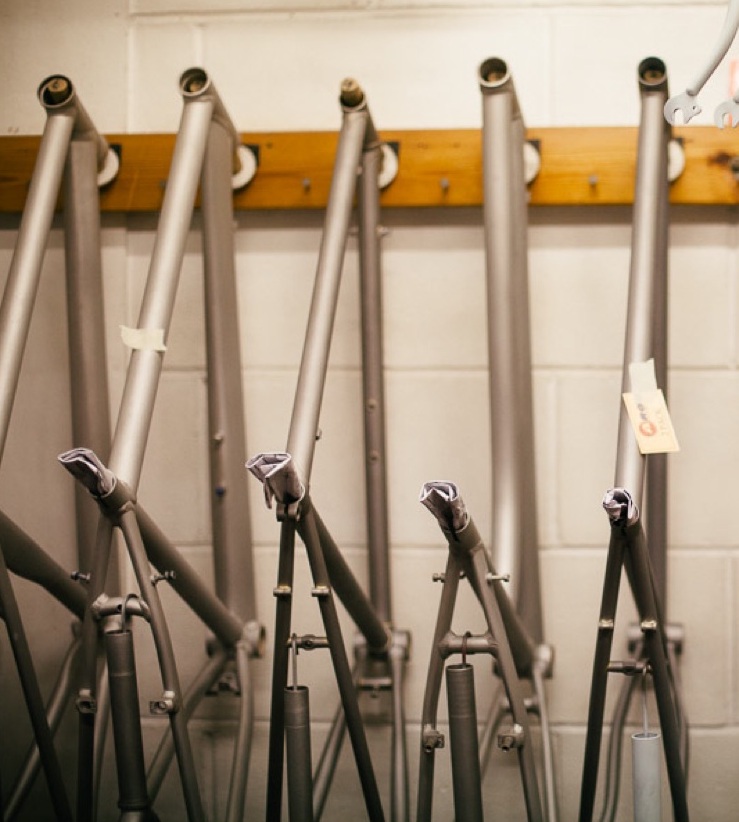 Primer undercoat
After making sure the frame is pitting and dent free, two coats of primer undercoat are then applied, and the frame is baked in our oven to dry it.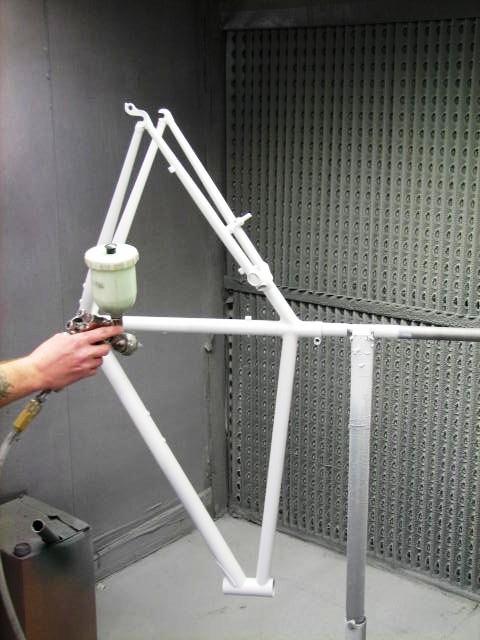 Top coat
Three coats of colour are then applied. Plus any contrast panels or stencils masked for and sprayed on. The frame is baked again in between colours.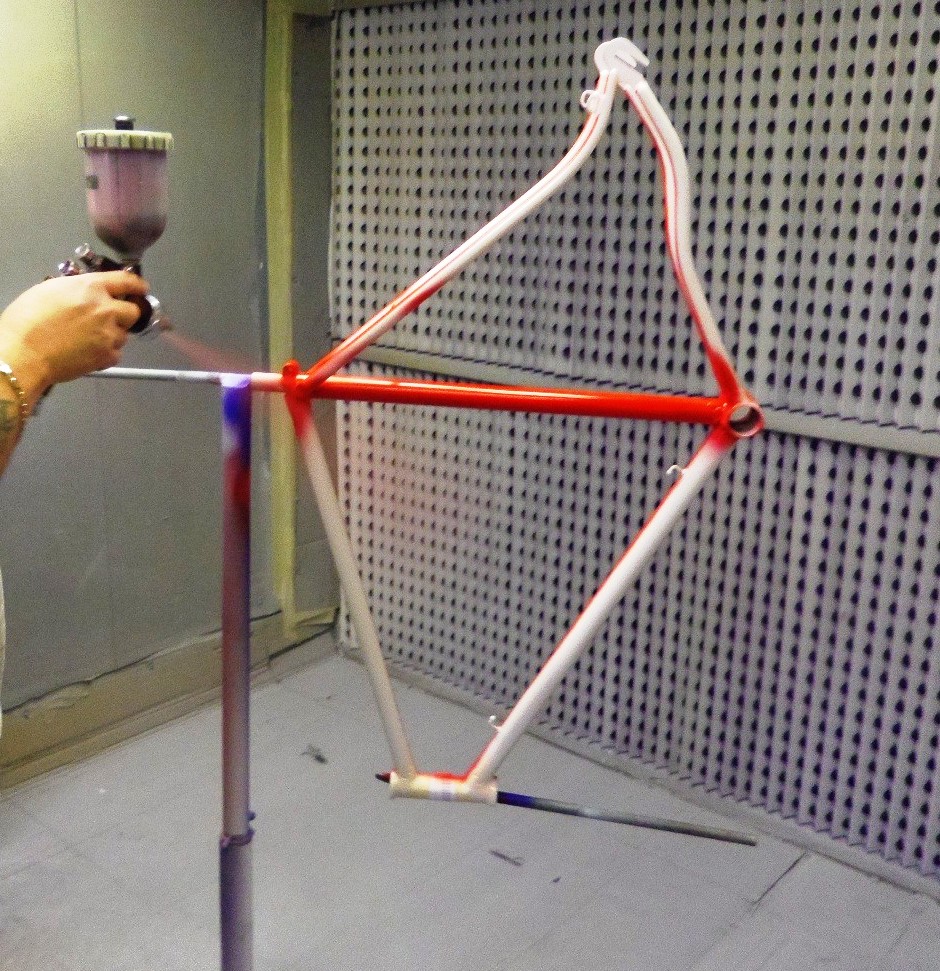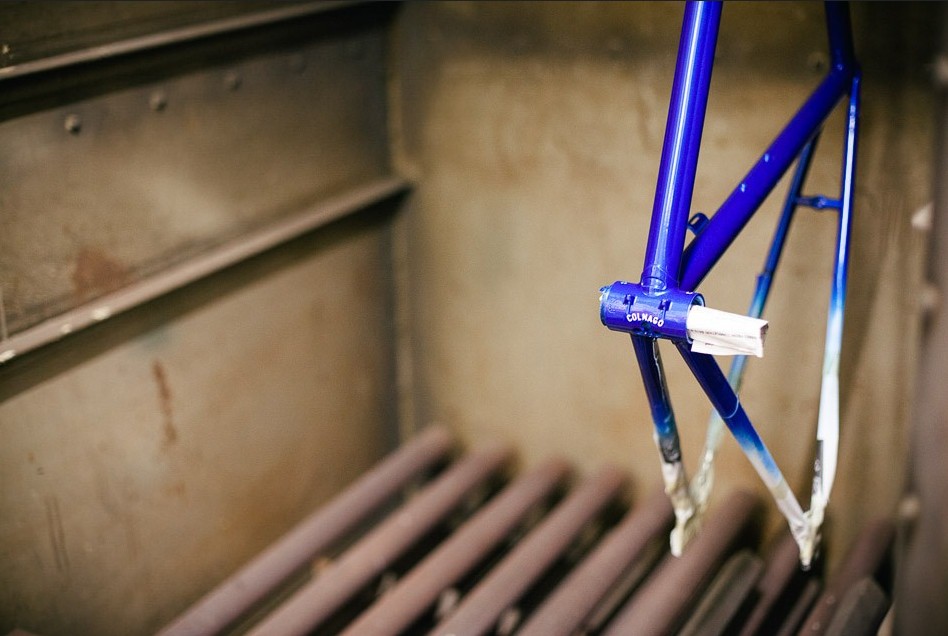 Decals, lug lining & box lining
The next stage is to fit any decals for the frameset. Also this is the stage where any engravings picked out, lug lining or box lining is done.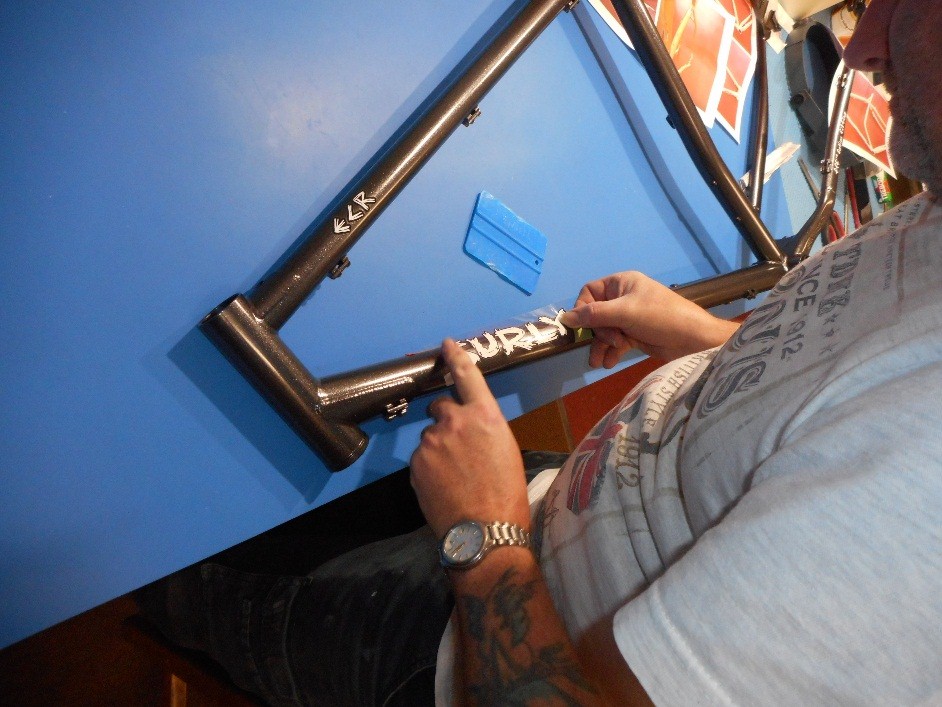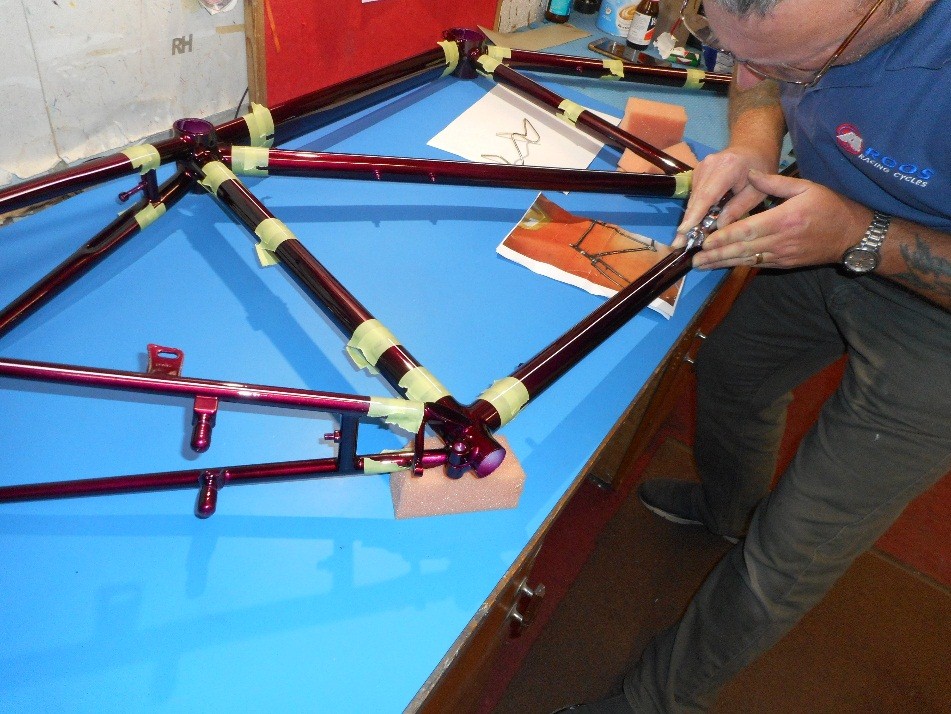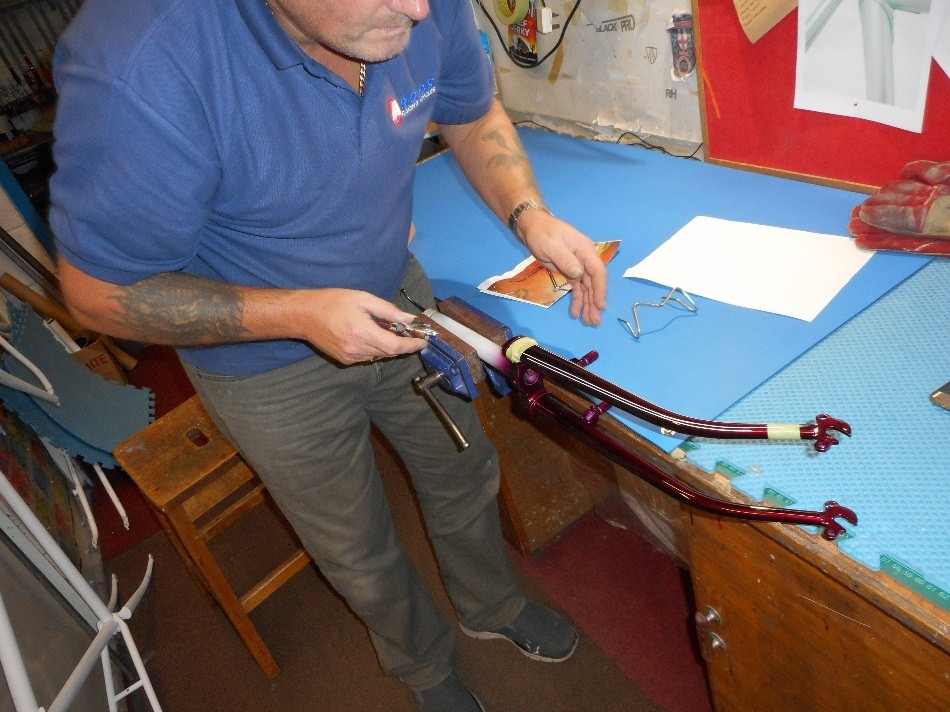 8. Lacquer
Finally, two coats of two pack lacquer are applied. This could be full gloss, satin (matt) or semi gloss depending on the look the customer wants. The frame then goes back in the oven for its final bake.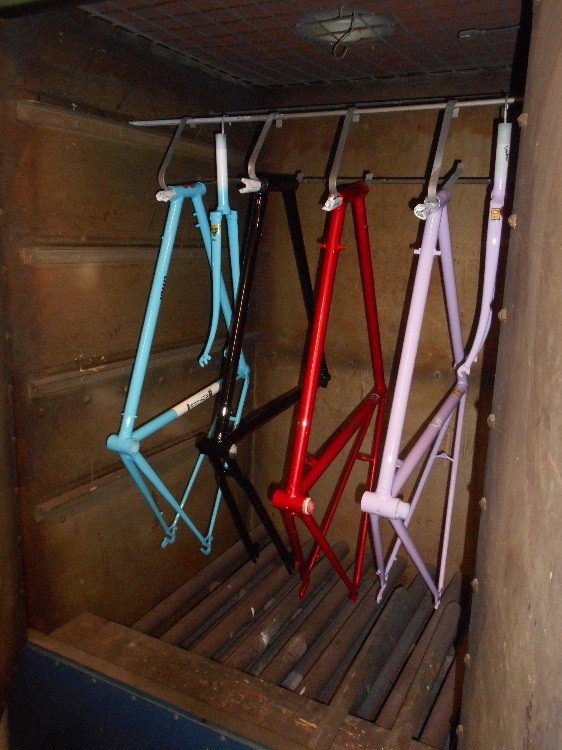 9. Finishing
The final stage is where the frame goes to our showroom. Here the frame has its final inspection making sure we are 100% happy with the finish. Threads and seat tubes are then cleaned out, metal headbadges and equipment refitted, and masking removed to reveal the chrome/polished areas.